Maintenance Staff (Civil) – Medan
Min 1 tahun (Pegawai (non-manajemen & non-supervisor))
Indonesia – Sumatera Utara – Medan – Siloam Hospitals Medan
DESKRIPSI PEKERJAAN
Minimum SMK, lebih diutamakan S1 Teknik Sipil
Terbuka bagi Fresh Graduate
Bersedia ditempatkan di Siloam Hospitals Medan
Jujur, berintegritas, gigih, dan ulet
GAMBARAN PERUSAHAAN
Waktu Proses Lamaran
Lebih dari 2 minggu
Industri
Properti/Real Estate
Nomor Telepon
+62 21 25669000
Ukuran Perusahaan
2001 – 5000 pekerja
Waktu Bekerja
Waktu regular, Senin – Jumat
Gaya Berpakaian
Bisnis (contoh: Kemeja)
Tunjangan
Tunjangan Lainnya, Kesehatan, Gigi
Bahasa yang Digunakan
Bahasa Inggris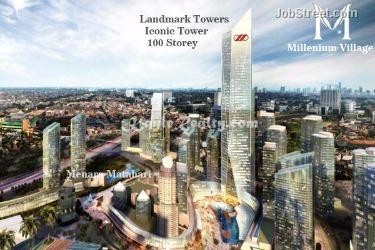 INFORMASI PERUSAHAAN
PT Lippo Karawaci Tbk ("Lippo Karawaci") was founded on a vision to impact lives through the development of well-planned sustainable independent townships within green environments and first class physical and social infrastructure. Over more than a decade, the Company has proven itself as a highly trusted property developer with the most recognizable brand name, owner of the largest diversified landbank and pioneering projects in strategic locations throughout Indonesia. Through a merger of 8 property related companies in 2004 the Company has expanded its business portfolio to encompass urban development, large scale integrated developments, retail malls, healthcare, hotels and leisure, as well as a fee-based income portfolio.
MENGAPA BERGABUNG DENGAN KAMI?
If you thrive on being challenged, interacting with diverse projects (Mall, Hospital, Mixed-Used Development, Township, Hotel and Residence), looking for endless learning opportunities, a culture committed to driving innovation  and most important, to play in a great project environment by using your expertise to imagine, innovate and explore, then come to Lippo !
Here, all project-construction and developer experts come together not to build just building and bringing its best product but also put effort to manage the whole units by system driven process.
We are one of the largest property company in Indonesia that have project all around Indonesia
We are a public listed company in Indonesia (Stock Code : LPKR)
Your excellence career will start if you join with excellent company
Selengkapnya di www.jobstreet.co.id